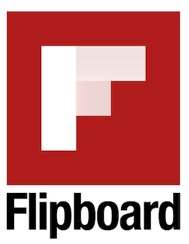 I'll freely admit that I'm late to the game on this one. Flipboard is a mobile device (iOS and Android) app that's been out for a couple of years now, but I just learned about it recently, and it's quickly become my favorite way to stay up to date about what's going on in the world of EdTech.
I USED to keep up with Ed Tech developments by reading monthly Ed Tech magazines like E School News, and by reading the KYDTC listserv. But after meeting with a public relations guy last year, I learned that the vast majority of what's in trade magazines like E School News, even the supposed "news" stories, are written by advertisers pushing a specific product. And the KYDTC listserv? I'll talk about that in more detail in a later post, but it's not getting the "action" that it used to get.
So about two months ago I decided I'd need to find another way of getting up to date Ed Tech information. And one of the things I decided to do was to separate my Facebook account and my Twitter account. They had been fairly closely linked (In fact, they WERE linked–any tweet I sent out went to my Facebook page) and both sites contained both personal and professional contacts. But I decided that http://www.facebook.com/sweasy would become my personal social networking site, and @bryansweasy would be for professional purposes only. So I unfollowed on Twitter anyone I was following for non-professional reasons, and I was left with a number of people who posted lots of good Ed Tech information, and Twitter became my Go To place for Ed Tech information.
Except…
Except for Twitter to be my "Go To" application, I had to ACTUALLY GO THERE from time to time. And now that I wasn't using Twitter for personal reasons, I found myself going there less and less.
Enter Flipboard. Like Zite (a similar app that I don't like quite as much), Flipboard turns the Internet into a virtual magazine. When the app begins, you just input what you're interested in, and Flipboard creates a magazine-styled aggregator of that information. It's really pretty slick–you need to download it and see it to believe it (or I guess you could just go to http://flipboard.com and watch the silent, introductory demo that loads). Better than just presenting links to "Politics" or "Technology" or something like that, though, Flipboard also has a Twitter "section" of the magazine. By adding that and linking it to my @bryansweasy account, I now have all of those Ed Tech links I was looking for arranged in a magazine format, complete with the first paragraphs of the links embedded into the tweets.
Anyway, Jody Rose accused me in his last post of being longwinded, so I'm not going to put any more here for now. Instead, I'll point you to an article in PC Magazine which discusses all of this in more detail:
http://www.pcmag.com/article2/0,2817,2367338,00.asp
Flipboard. If you haven't tried it yet, give it a chance…