Podcast: Play in new window | Download (Duration: 1:13 — 10.5MB) | Embed
iOS 8 brought some pretty awesome camera updates.  Along with battery life, a great camera experience is always going to be one of my requirements when searching for the best mobile device or "phone."  Obviously, one of the feature updates was the addition of native time-lapse option.  Many folks have stumbled upon it when swiping to rapidly to get to the camera to catch that once in a lifetime shot.  Only to find several shots in the form of a video.  I'll admit that while excited about time-lapse ideas, I just had not had the project to plan and shoot.  …Until this past weekend….
Project:  We tore down a 200 year old single room house in the back field on our property, saved all of the wood we could, pressure washed it, and started charting the ideas for the reclaimed wood.  Up first on the list was a new headboard in our master bedroom.  In typical fashion, I just clamped the iPhone in to the Joby tripod, with the i.Trek Supermount and pushed the red button.  After the fact, I read several articles.  These 3 are my favorite:
 StudioNeat (great chart of the frame capture rates)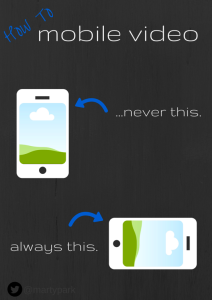 My execution was not flawless by any means, but it was pretty effortless…  Turns out that time-lapse is an awesome merge of still shots spun into a video.  Exactly how I used to help students learn ideas through clay animations projects.    Except iOS 8 automates it all on a dynamic timer, based on the length of the recording.  It's a video. Not still images.  The Phone should be horizontal, NOT vertical.  Always this, and never this.
I did think ahead and go to "Do Not Disturb" mode.
In the experiment, I was really interested in the storage real-estate the project consumed.  I am surprised.  The six hour project only consumed about 161 MB on the phone in .mp4 format.  I'm now thinking of new ways to leverage time-lapse in the making/learning space.