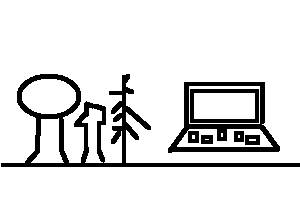 Wow! Let's dust off this blog and see if we can get a couple of coherent thoughts together! I feel like things are constantly changing in the K-12 education technology landscape and, though this may be a brief post, it's still at least a touch more than 140 characters. What's going on?
Devices
Roughly 12-24 months ago, this conversation would have started and ended with a lowercase "i". There's still some of that, but not nearly to the degree that we saw back then. What changed? In my opinion, several things:
Access = Internet = Browser – I've heard a few examples of iPads being desired and purchased, only later to discover that much of the use is for web research via the Safari browser on that device. I believe iPads have their place but, if all you need is access to the Internet, this can be accomplished at a lower price point
Touch response became (thanks largely to the iPad growth) less of a fad and more of a standard thing. If you purchased a tablet because touch-based access was "cool" a few years ago and not because it was a functional fit for your needs, then the "cool factor" alone sort of went away.
Continued evolution in the battery life and footprint departments. The iPads themselves have gotten thinner and changed sizes, but so have other devices. The fact that there's such a thing as a 'phablet' lets you in on at least one area where the market has changed.
Cost and functionality or instructional need – too often in that order – drive what gets purchased in the K-12 market. Some quick-hit ballparks based on searches on April 24, 2015:
iPad Air – $399
iPad Mini 2 – $299
Samsung Chromebook – $249
Acer Chromebook – $199

…and, let's be honest, I can find cheaper and more expensive of all sorts of Chromebooks depending on hardware specs

Latest MacBook Air – $799 (regular $999 per the site I'm using)
Microsoft Surface Pro 3  – $799 (lowest I could find today, cost & specs vary)
Samsung Galaxy Tab 4 – 10.1″ – $299
Samsung Galaxy Tab 4 – 7″ – $180
Coming – cheaper Chromebooks and Chromebit
All I continue to hear is about the hunger for access which, as defined above, often simply means a browser and Internet 'access.' There's less interest in purchasing a $400 iPad (plus perhaps a case, bluetooth keyboard or other accessories) for simply access. In fact, the conversation is quickly turning into one of "I can get this many lower-cost devices or I can get that many of the higher-cost ones." Right now, the lower cost seems to be winning out. If satisfaction drops low enough or the needs outgrow the low-end device, that may change. Until then, it's a hunger to get to the web for as low a price per device/user as possible.
I also think the increasing ease of access has another effect on technology in K-12. Everything is being pushed to the browser… to the web… to the cloud. Districts are seeing the need to effectively organize the information flow in the cloud. How do students save and 'turn in' assignments? How do teachers interact in the cloud to give those assignments, provide feedback and some kind of assessment on those assignments? Microsoft is attempting to help with the OneNote Class Notebook Creator for the Office 365 environment. Google has Classroom for the Google Apps for Education space. You can also find all sorts of learning management systems that have various features marketed to the education crowd. There's not a single one that's "right" for everyone… but it's becoming increasingly apparently that everyone needs 'something' to better manage that workflow. Otherwise, you'll see (as I heard today) examples of teachers asking students to complete an assignment electronically, only to have it later printed out for assessment when the same work could have easily been done entirely online.
This speaks to the need for integration specialists in our state and elsewhere. At this point, it's not about a teacher being "good" for integrating technology or "bad" for not using technology very often. Honestly, it's about helping people be more efficient. If a teacher uses technology to record a lesson for later use, it's not (necessarily) to prove that it can be done or to get a good evaluation. That recording can be used later for an absent student or perhaps another class. Maybe a student simply needs to hear it a few extra times to drive the point home. I heard a story this week about a child who learned to be very good at Minecraft… by watching videos that others have made about Minecraft. We need integration specialists to help teachers use technology, both for their own benefit as well as to build a general culture where all staff and students are communicating as efficiently as possible. For years, teachers have wished that they could 'get through' to every child. I get irritated at times if a child can't be bothered to look up from their phone to communicate with me. Often, though, I'm probably interrupting their communication with someone else. It's a different world and there's nothing wrong with expecting it to be different in today's classrooms… and assisting our teachers with the adjustments it may take to get there.