I've followed Vala Afshar on Twitter for some time… several of his Tweets last week sparked a collaborative effort (co-authoring) to post a new piece on the Huffington Post blogs.  If you missed it, here's the article.  It turned out well and was fun to collaborate 100% digitally.  I've never met Vala.  He sure does crank out some tweets, so be careful if you decide to start following him 🙂
Below you will find the rest of the story or article.  I'll call this part 2 of the 2 part series.  It's part 2, but it won't be making it to the Huff… it will just live here.
Charles Shaw must have had a time machine in 1947 when he wrote the very first, groundbreaking book about the future of business interactions with social media, connectedness, networking, and cloud participation.   The book is titled: It Looked Like Spilt Milk.  That was 66 years ago, how did he know what we would be experiencing today?
There are 3 parallels with It Looked like Spilt Milk, I'd like to make: unicorns, cloud, & milk.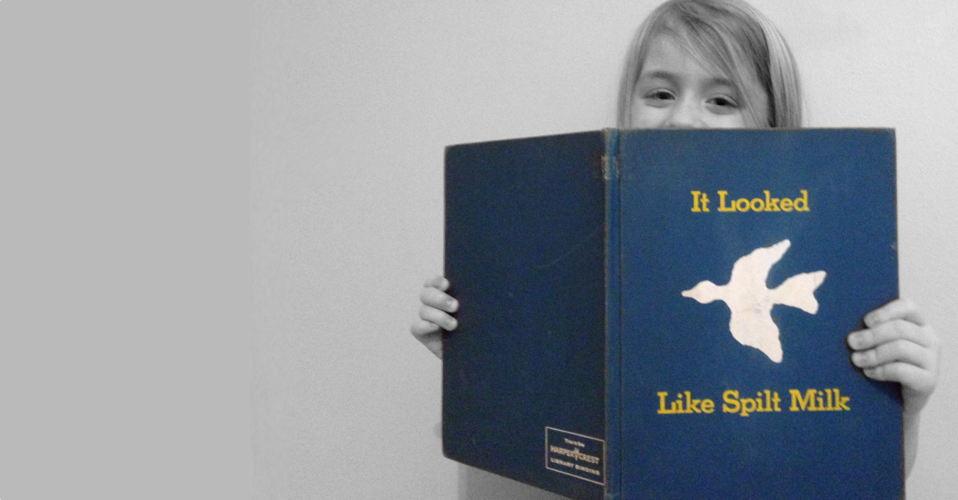 Shaw (1947) writes an eloquent book, at a first grade reading level, about a collection of fun shapes and figures you can see when you look up to the clouds.  Our imagination can run wild.  We can make something out of nothing, or we make nothing out of something very, very important.  One could choose to engage in a hunt for unicorns.  It often seems as though in a world of participation, those who are not participating are making spilt milk out of the activity in the cloud.  For that reference Shaw makes to "the cloud," how fitting.  How fitting is it that when things are far off, they appear different than what they are? And at times we've seen crying over that spilt milk.
So, Shaw's book is not really about social media, cloud participation, etc. — but it might as well be.  Business leaders could certainly learn a baby step or two from this picture book, at an elementary level.
Let's call it what it is.  It's not spilt milk.  It's social media and digital participation "in the cloud."  It's not something that should be done only on one's free time, on their own device – outside of your business's approved firewall, and outside of your business-approved websites (read: intranet site).
Clay Shirkey calls us "the people formerly known as the audience."  The fact is that we want to participate.  We are no longer interested in being passive consumers.  We want to be active, involved, and a strong part of the growth of our society – our digital society.  In the next year, there are not going to be LESS smart phones (hyper mobile devices for participation), tablets, social media accounts, email addresses, videos uploaded to YouTube, and Tweets.  Ian Jukes talks about that exponential growth.  We need to stop fighting it.  We need to own it, and use this desire for full participation.  "It just is."  So how do we ensure that all of these things are used for good and not evil (you can also insert: positive not negative; smart business not reckless business; learning not ignorance)?  In fact, one new marketing metric that is getting some screen time is the social share of the conversation.  In other words, the percentage of time your brand shows up in online conversations.

Raise your hand if you are a business leader and like you the sound of that.  …(teacher wait-time)…
If you raised your hand, you are possibly in need of an intervention.  The business leader tagged as a skillful digital citizen, would have already favorited, (re)tweeted, shared, +1, liked, posted, or pinned it.  If you didn't raise your hand or do one of the aforementioned social responses, then maybe your business does not need to retain current customers, or gain new ones.  Maybe your business is fine just where it is.
I'm confused…
It's about the people, right?  Dan Pink says so.  Harvard business says so.  In the HR community, good business is all about finding and hiring the most talented people, the right people.  So why does the business community, choose to take the good people they find and bind them up with restrictive policies (what they can and can't do)?  Not only are the majority of big (Fortune 500) businesses not online and social, they also restrict their great talent from being so as well.  In some cases, it's not so much of a restriction, but there is not really any encouragement either.
Here's a novel idea, how about removing the fear?  Knowledge and understanding is the best combatant to fear.  As business leaders, be the model for our young people, our students.  Let's not make what they prefer to do taboo.  Take the good people you've hired and ensure they have a base level of knowledge about our digital world, then encourage them to use that power they've gained personally to help the greater good of the business.  What about teaching them digital citizenship skills and encouraging them to use their digital or online connectedness for good business?   If it is about people, then it is not about the technology tool or website of the day.  It is about actions, and choices that people make.  It is citizenship 101.  Our schools are starting to teach these skills, but we business leaders to help lead and model.
Digital Citizenship programs in education paving the way for all other industries:
Everyone is a digital citizen, some poor and some exceptional.  Each person's digital footprint affects many others digital experience every day.  The movement to educate today's students about digital literacy and being conscious about what they do across all digital levels is at the forefront of exposure.
Mike Ribble's (2011) Digital Citizenship in Schools books outlines 9 core elements that should be focused on to help create a culture of good digital citizens.  From correct use of social media, cyberbullying, plagerism, etiquite, to proper digital commerce, school districts are teaching users proper ways to behave on the networks and how to interact with others.
So why is it that education understands the digital fluency concept and today's corporations, for the most part, turn a blind eye to these aspects?  Education needs the business world and business leaders to lead in this space.  Our business leaders and workers are the parents of our students.  When human resource departments today make employees sign off on sexual harassment programs, international fair trade rules, etc., there is little to no education or programs that ensure employees understand how to act and participate properly in the digital age.
Possibly, the thought that age equals responsibility is what keeps this concept out of the working world, however, if you use this thought process then sexual harassment trainings wouldn't be necessary and HR departments would have little to do.  When a person begins a new job they typically have some aspect of technology that they are responsible for.  Sometimes they have multiple technologies, ie. Computer, smart phone, internet access, perimeter access entry cards, passwords and codes that are needed for work but could be detrimental to a business or to the safety of others.  In education, we hear about digital natives (born digital) and digital immigrants (Prensky, 2001).  We need our business leaders to choose to be "digital settlers" (Palfrey & Gasser, 2008) , choosing to live and participate digitally, even though not born digital.  Creating digital settlers should be the focus for businesses to teach and train on proper use of the networks, internet and digital devices.
BYOD penetrating the workforce should draw more focus to this transformation.   Many times people don't even understand what the impact of their digital footprint is on their company.  A post on Facebook or twitter can be detrimental to the company they work for.  Confidential data being exposed on a users iPhone, plagiarism of someone else's work, the list goes on and on.   Corporations should take K-12 as a leader and outline digital citizenship programs that teach and enforce the correct ways to use technology.
Knowledge is a start.  A 2007 study concluded that plagiarism could be deterred through teaching and information better than through threats.  The research actually found that plagiarism could be reduced by as much as 65 percent when student participated in a 15 minute Web-based tutorial that taught (and quizzed) them what constitutes plagiarism and how to avoid it.  537 students participated.  If you need a stronger case for teaching and leading digital citizenship in the work place, use this study as story starter.  Teaching and learning is greater than threats of punishment in many regards.  That can be an example of leading from within.
Digital Citizenship in the field:
Microsoft's Craig Mundy has called for an Internet Driver's License in the past.  Mike Ribble address a Digital Driver's License (DDL) in his book on Digital Citizenship in Schools.  The Digital Learning Design Lab at the University of Kentucky has built such a thing for students and teachers, as a teaching and learning tool through their DDL (http://iDriveDigital.com ).  The ideas is simple and the point is learn some vital participation skills before being given the keys to car and getting on the road.  It's not about limiting or putting blockades up and making sure everyone drives the same way.  It is about making sure everyone has the super powers to interact and participate at an accelerate rate to show off their talents to make the vision of the company or business shine.
Nikkol Bauer, an educational leader in Kentucky, is the mastermind behind the Superheroes and Villains campaign (Your Words, Your Actions, Your Choices).  Business leaders can relate.  Anyone can be a Google Jockey (one who searches the web with great vigor to quickly find and use information) and find interesting stories from all fields of business to add to the list, use this your new list to share with colleagues – focusing on the conversation.
Final plea for business leaders to help us lead:
We want our students to be heroes, not villains.  Can't and shouldn't our business leaders help us get there?  Or would business leaders rather create policies in order to CYA and create that human resources approved path to fire people for blasting out that inappropriate tweet.  George Costanzo, a great friend to Jerry Seinfeld, went all in with "jerk store."  In many cases, the "jerk store" is what we want our business leaders to be teaching.  Instead of a new social media policy, maybe the campaign is: Think before you post, don't be a jerk store.
In education, we have a lot in common with business.  We make policies and we get policies handed to us from federal and state levels.   One flag we hold high is pedagogy for teaching and learning.   We've slowly but surely started teaching digital citizenship skills, because it is the right approach.  We've heard business leaders talk about 21 century skills.  Maybe they picked up on that from educators.  Business leaders need to help education understand that we are 13 years in to the 21st Century.  A child born today could see the 22nd century.  The clock is ticking, what are we waiting for?  Please tell me we are not waiting for a new policy or standard operating procedure to be published in the handbook or manual.
4 Quick steps to help make a digital citizenship business change:

Step 1: Remove the fear.  Start a Digital Citizenship campaign in the workplace.  Promote or encourage the use of "personal" social media networks, apps, and devices.  It should no longer be taboo to visit YouTube or Tweet something during "work time."
Step 2: Teach the skills.  Teach about safe ways to purchase online.  Teach about piracy.  Teach how to post images online without including the EXIF or Geo-location data included in them.
Step 3: Highlight positive outcomes from employee's personal participation as well as the company's participation.  Remove the concept of Personal versus Professional use of our digital footprint and switch to appropriate versus inappropriate use.  The old model simply doesn't fit any more.  Wake up business leaders.
Step 4: If something negative happens, don't create a new policy or block the website.  Make decision based on a person's action, not about a technology.  Never look for a technology solution for a non-technology problem.