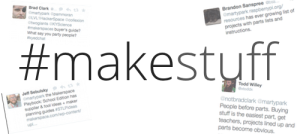 This post is by request….  AND is not fully inclusive – yet.
For the past 2 years or so I've included many thoughts captured in Margret Honey's: Design, Make, Play book into several talks I've given.  Some were large keynotes and some were small group sessions.  Perhaps, more importantly I've captured these ideas into my day-to-day work and learning.  This book is essential when getting into to the Maker movement.  Foundational to this movement in the learning process is believing that kids (and adults) can learn by playing and tinkering.  For me, making stuff is very much a part of project-based or problem-based learning.  Project-based learning and making are like peas and carrots.   When you see that excitement build, a follow up question is: "OK – where do I get my stuff to make great stuff?"   Todd Willey points out that it's "People before parts…
So step #1 is to get your teachers and leaders to design big ideas and projects.  I'd set some money aside and send them on a field trip to a school with an awesome Maker Space and let the spend some time watching kids design stuff, make stuff, and play.  – all wrapped tightly into content of course.  This part is the messy part (note: messy is good).   I also believe there is a balance here… sometimes we need to tinker with stuff to even imagine something to make.  I responded to Todd that I couldn't even have imagined some of the things I made with Lincoln Logs until I had time to play with them.  This step in the design is:  The Art of the Possible.
Step #2:  Take ideas from step 1 and Gear Up. Here's a quick list.
Step #3: The Maker Space… more to come on this, but in general – here are some cool ideas
3D Printing Station
A Google SketchUp Station
Green Screen/Video Station
Lots & LOTS of collaborative work spaces and stations (with large screens for sharing digital)
Some Robotics stations (Sparky and Others)
Step #4: Check out some stuff Super-Awesome Sylvia has made.  If she can do it, so can you and your kids.